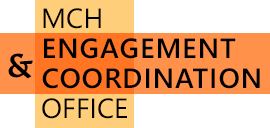 Our mission is to strengthen the Maternal and Child Health (MCH) workforce capacity by assessing and improving (providing) exposure to evidence-based or evidence informed, culturally appropriate training and development opportunities for MSDH staff, health students, external partners in building a diverse and culturally sensitive workforce.
Vision
To work with MSDH programs and community partners through promoting learning, recruitment, engagement, leadership, and retention for a diverse, knowledgeable and competent current and future MCH workforce in the state of Mississippi.
Goals
To strengthen education, training, and professional development for MSDH staff, community partners and pregnant women.
To offer leadership development opportunities addressing emerging issues, diversity, equity, inclusion (DEI), and systems thinking addressing public health and Maternal and child health.
To foster and support a competent MCH Public Health Workforce for the future by partnering with Mississippi Institutes of Higher Learning.
The MCH Engagement and Coordination team offers a unique approach that is centered around a variety of adult learning techniques, so professional development opportunities are tailored to individual needs.
Training and Development Resources
Contact
For more information, contact our Office of Health Services at 601-576-7472.
To learn more about the MCH Engagement and Coordination Office and services, call 601-576-7856.
For more information about Maternal and Child Health Programs and the MCH Block Grant, call 1-800-721-7222.