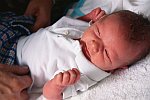 Premature births are a major public health challenge in Mississippi. Prematurity puts newborns at risk for health and developmental problems as they grow, and is a leading cause of early death.
Giving Babies a Healthy Start
Mothers-to-be can give their babies the best start in life by:
Staying in good overall health, including keeping a healthy weight and getting regular physical exercise.
Quitting smoking, and making sure that others in your household do not smoke.
Waiting until full term (at least 39 weeks) to deliver your baby.
Even women who are not currently planning to become pregnant should stay healthy since half of all pregnancies are unplanned.
Find Out More
For more information about Maternal and Child Health Programs and the MCH Block Grant, call 1-800-721-7222.