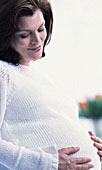 Proper care during your pregnancy allows early diagnosis of disease and identification of some congenital anomalies (birth defects). You can take steps, even before conception, to prevent birth defects and ensure the best development of your baby early in life.
Good prenatal health – even before you become pregnant – and proper care during pregnancy reduces the risk of:
losing your baby during your pregnancy (miscarriage);
you or your baby becoming ill;
your baby being born too soon or too small (premature or low birthweight);
delivering a baby who has birth defects or is stillborn.
Your lifestyle and choices are an important part of prenatal health for you and your baby. Our Healthy Pregnancy section has complete information on having your best pregnancy:
Healthy Pregnancy and Maternity Guide

Get free text message tips for a healthy pregnancy and first year of life for your child, timed to your baby's development.
High-Risk Pregnancies
Healthy Moms, Healthy Babies
As a Medicaid provider, MSDH provides perinatal high risk case management through its Healthy Moms, Healthy Babies of Mississippi program. This program includes a multi-disciplinary range of preventive health services for pregnant women including physical exams, nutrition, social services, health screening, education, counseling, interventions, and referral service as appropriate. The program works to decrease infant mortality and low birth weight infants by providing health care to pregnant women. By increasing the number of women having access to prenatal care, it is intended to assist with the reduction of infant mortality.
Resources for Healthy Maternity
Health Centers
Community Health Centers around the state provide maternity services at a cost adjusted for your income. Similarly, Federally-Qualified Health Centers provide maternity services regardless of your ability to pay.

Essential services for mothers and mothers-to-be.
The Mississippi Attorney General's Office brings you a complete resource for services you can use, from health care to adoption, education and jobs: MAMA — Mississippi Access to Maternal Assistance.