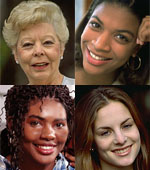 Our Women's Health program provides access to comprehensive health services to ensure healthier women, mothers and infants.
Services include early cancer detection, domestic violence prevention and intervention, and family planning. All our services are designed for all women and their families at or below 185 percent of the Federal Poverty Level.
More Topics
Osteoporosis Program




Promotes osteoporosis prevention, treatment and education
Other Resources
Your input is important. We want to hear from you about maternal and child health needs, the MCH Block Grant, and programs in Mississippi. Take a moment to share your comments, ideas and concerns with us.