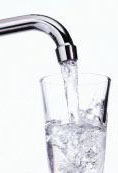 In Food Facilities located in area where boil water alerts are in effect, the following provisions must be made.
If you are under a Boil Water Notice no tap water should be used. If any food or drink products were made after this time, then they should be discarded. Any surface or utensil cleaning performed after this time should be re cleaned and sanitized as outlined below.
Water used for drinking must be bottled water or water from an approved supply. Drink dispensers, iced tea and coffee machines which are connected to the water supply may not be used. Ice made with water from the facility cannot be used.
Ware washing should be minimized by using disposable supplies and utensils for food preparation and service. If any ware washing is done bottled water or water from an approved supply must be used followed by sanitization. The same holds true for water used to clean food contact surfaces.
Bottled water or water from an approved supply must be used for hand washing . This can be accomplished by using a temporary hand washing station consisting of a five gallon container with a spigot and a five gallon or greater bucket for retention.
Soap and approved water will be used to wash hands; hands will be further sanitized by the use of sanitary wipes. Individual paper towels will be used for drying.
Wear gloves for all food prep and service. Practice proper glove usage.
Use disposable serving containers and utensils. For any cooking/serving utensils that must be washed, you may set up a temporary three bucket wash rinse sanitize station. Each bucket should be large enough to immerse the articles being washed, rinsed and sanitized.
Toilet facilities must be available and must be maintained in a sanitary manner.
Once water has been restored, be sure that you flush out all water lines including drink dispensers, all equipment containing water reservoirs, tea machines and coffee machines prior to use. Any Ice must be discarded and then the ice machine needs to be cleaned and a run of ice produced and discarded prior to re-use of the machine.