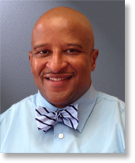 Victor D. Sutton, Ph.D, MPPA
Director, Office of Preventive Health and Health Equity
Mississippi State Department of Health
570 E. Woodrow Wilson
Jackson, Mississippi 39216
Victor D. Sutton directs the Office of Preventive Health and Health Equity after having served as MSDH's Preventive Health director for many years. Dr. Sutton provides operational and fiscal oversight to the Bureaus of Community and School Health and Chronic Disease, the Delta Health Collaborative, and the Injury and Violence Prevention program. The Office of Preventive Health and Health Equity works to promote evidence-based programs that focus on policy and environmental change, and works with schools, faith-based organizations, health care systems, worksites, municipalities and communities. Dr. Sutton manages the programmatic planning, implementation, and evaluation of federal and state grants.
Dr. Sutton's career in public health extends over a decade in professional roles with the Mississippi Department of Human Services' Office of Children and Youth, the New York Department of Labor, and non-profit organizations, including the Community Organization for Health Awareness (COHA). As Director of COHA, Dr. Sutton developed a mentoring network that addressed health and education among at-risk youth in the juvenile system.
His research interests are varied and include leadership, cardiovascular health, obesity, health disparities, physical activity, community-based corrections, and community and economic development.
Education
Ph.D., Public Policy and Administration
M.P.P.A., Public Policy and Administration
Professional Memberships
National Association of Public Health Educators
Mississippi Chronic Illness Coalition
Conference of Minority Public Administrators