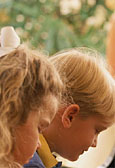 This page will help you select the right kind of child care based on your needs and those of your child.
Tools for Choosing a Child Care Provider
Choosing a Caregiver
What sort of person is your caregiver? A good caregiver should be well-trained, warm and loving toward children.
Whether your child is an infant, toddler, preschooler or school-ager, the caregiver should encourage the child's interests and stimulate the child to explore and discover new things.
Whether you use in-home care, family day care, or center care, the facilities should be safe and healthy.
The equipment - games, toys and furniture - should be in good repair and appropriate for your child.
The number of children in your child's group should be small enough to allow your child to receive individual attention.
What will the cost of care be? Day care costs can vary widely, depending on the type of care you use, the days and hours you need care, the part of the state you live in, and other factors. You should investigate the costs of different kinds of day care available, including the costs of transportation for your child to and from the day care setting.
Any kind of day care can be good for your child if the care provides the warmth, supervision and individual attention your child needs. In fact, you may want to use more than one kind of care for your children - for example, in-home care for your infant and center-based care for your preschooler.
Types of Child Care Facilities
In-Home Care
An in-home caregiver is someone who comes to, or lives in, your home. The caregiver can be a relative or a friend or can also be someone you pay to come to your home. If you have three or more children needing care, in-home care may be less expensive than other kinds of care. It can also save you from the worry of getting several children, all with different schedules, to and from a day care arrangement outside your home.
You may also want to use in-home care if your child needs special care because of a physical, mental or emotional problem; if you need care for an infant or toddler, or care for a child at night; if you need only after-school care. You should know, however, that in-home care can be costly, especially if you have only one or two children and are paying someone for full-time care. In interviewing in-home caregivers, you'll want to find out about their training and experience, their attitude toward children, and their ability to handle children who disobey.
Family Day Care
This kind of day care is provided in the home of the caregiver, who is often a mother with children of her own. You may find a relative, friend or neighbor who is willing to care for your child in this way. Or you may find a family day care home run by someone you do not already know.
Family day care can be a good arrangement: if you are a single parent raising a child alone; if you live in a rural area where family day care is likely to be the easiest to find; if you have only one or two children needing care; if you have a school-age child.
Keep in mind that a family day care provider may go out of business or stop caring for children at any time. And because many of these homes are not inspected or licensed by local or State agencies, it will be up to you to make sure that adequate health and safety standards are met.
Center-Based Care
Day care centers are established settings where children are cared for in a group away from their homes for all or part of the day. There are many different kinds of center-based care, including nursery schools, preschools, and parent cooperatives. Some of these centers are set up primarily to keep children safe and secure; others are designed to prepare children for their school years. Center-based care is most frequently available in a town or city.
Many day care centers have an organized program of activities to help children learn. Some centers follow a formal plan, perhaps one developed by a well-known educator. Others use a more informal program based on their day-to-day experience working with children.
You may be interested in center-based care: if you want to keep your child in the same day care setting for an extended period; if your child needs special care because of a physical or mental handicap or an emotional problem; if you want certain educational or religious activities for your child.
Keep in mind that center-based care may not provide the "home" atmosphere some children like. Your child may not be comfortable in a large group for a major part of each day.
In considering a particular day care center, check out the facilities available, the qualifications of the staff, and the number of children cared for by each caregiver (the "child/staff ratio"). Talk to the director to make sure the center's program has the approach you like and includes the kinds of activities you want for your child.
Safety and Health
Child care settings should offer a variety of activities for your child, both alone and with other children. Activities and their setting must be designed for safety.
What kind of playground is available? Look for fences around outdoor areas and well-constructed equipment with soft landing places made of sand or wood chips under swings and slides.
Emergencies: are poison control and ambulance phone numbers clearly posted?
Are there smoke alarms throughout the building?
Are the toys kept clean? Washable toys should be washed every day with a disinfectant cleaner.
Does the staff regularly clean all surfaces with a disinfectant?
Children and adults should wash their hands before eating, after touching their mouths and noses, and after toileting. The staff should wash before feeding, handling food, diapering, and washing surfaces. Hand washing is the most important line of defense against the spread of infectious disease.
Are the children protected from strangers? Clearly establish with the caregiver the identity of the parent or guardian responsible for picking up the child.
Activities and Environment
Look at the child care program from the perspective of your child:
Are there plenty of toys, games, and arts and crafts material?
Are the toys and materials easy to see and reach?
Is the center bright and cheerful?
Are the children there absorbed in what they are doing? Listen for the sounds of children talking and playing. Do they sound happy?
Are adults talking to the children respectfully, encouraging them to ask questions and express themselves?
Are the caregivers talking to, singing to, and holding infants? Do they move to the floor to play with toddlers and preschoolers?
Are the caregivers helping school age children develop skills, talents and creativity?
What are the center's policies on discipline?
Does the center keep its policies in writing?
After you have selected a child care program, your job is not over. Remain involved. Talk regularly with your child care provider about activities, your child's development and behavior, and any other concerns you, your caregiver, or your child may have. Drop in on the program at different times and assess how things are going.
Regulations and Complaints