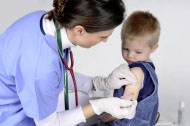 The Mississippi Child Immunization Act of 1994 established a centralized registry to be operated by the Department of Health for health care providers to report all childhood immunizations given in the state. The goal of the Mississippi State Department of Health, Immunization Program is to insure that accurate and valid immunization data is available to health care providers, parents, and others who have a legitimate and tangible interest in immunization information.
About the Immunization Registry
How the Registry works
Registry entries are submitted from private and public health care providers. If you receive an immunization from one of our public health clinics, it is recorded for you in the Registry. If you receive an immunization from a private physician and are under 19 years of age, your immunization will also be recorded in the registry.
Whom we register
The Immunization Registry operates statewide in all county public health clinics. We currently have over three million patients listed in the registry. The target age group consists of two, 0-2 years of age and the extended age group of 0-18 years of age. Adult immunizations may also be entered into the state registry.
Finding immunization records
Information in the registry is currently used by public health clinic providers and approved participating private providers. Other private providers, parents, legal guardians, daycare operators, and school nurses can call (601) 576-7751 to obtain immunization histories on children. A fax line is also available to address inquires for information. Please call our Immunization Office for more details.
MyIR: Individuals and families can find their immunization/vaccination records online by registering with the MyIR app. Find out more
For Healthcare Providers
Contact
Private clinics or doctors may contact the Immunization Program to obtain access to records in the Immunization Registry. Call (601) 576-7751, or 1-800-634-9251 outside the Jackson area.
Individuals who would like copies of personal immunization records may call our Immunization Office at (601) 576-7751.