Heart disease is not just for men. Heart disease is the number one killer of women in the United States. But too few women are aware of the risk to them or what they can do about it.
Find out the Heart Truth now. The information on this page will help you make your heart health a success story.
Who Is At Risk

How Do I Know if I Am at Risk?
If you are affected by any of the conditions below, you could be at long-term risk for a damaged heart that could lead to disability, heart attack or both.
High blood pressure
High blood cholesterol
Diabetes
Physical inactivity
Smoking
Overweight
Taking Action
The good news is that heart disease is a problem you can do something about. Both men and women can lower their risk of heart disease by as much as 82 percent by leading a healthy lifestyle. You can control the risk factors above — and encourage others to do the same.
Reduce the Risk

Simple Ways to a Healthy Heart
Many heart disease risk factors can be controlled, by making changes in your lifestyle and, in some cases, by taking medication.
Know your risk factors for heart disease.
Talk to your doctor about reducing your risk of heart disease.
Get regular checks of your blood pressure, blood sugar, and cholesterol (including measures of your good (HDL) and bad (LDL) cholesterols, and triglycerides).
Do not smoke cigarettes or use other tobacco products.
Eat wisely for heart health.
Get regular physical activity. (At least 30 minutes of moderate physical activity on most or all days of the week.)
Aim for a healthy weight.
Know the signs and symptoms of a heart attack and the importance of seeking medical help immediately.
Special Groups
African American Women
Did You Know?
For African American women, the risk of heart disease is especially great. Heart disease is more prevalent among black women than white women — as are some of the factors that increase the risk of developing it, including high blood pressure, overweight and obesity, and diabetes.
Find Out More:

Latinas
Did You Know?
Heart disease is the #1 killer of Latinas in the United States. Together with stroke, heart disease accounts for a third of all deaths among Latinas — cancer, the second-leading cause of death, accounts for about a fifth.
Latinas also have high rates of some factors that increase the risk of developing heart disease, such as diabetes, overweight and obesity, and physical inactivity.
Find Out More:
Their Stories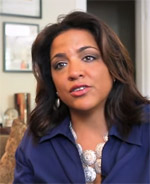 Jennifer's Story
Jennifer didn't realize the signs of her heart under distress until she was in a hospital bed recovering from a heart attack at the age of 36.
Gloria's Story
Gloria inherited a love of dance from her father, and at 61, she hasn't relinquished her passion. Although her father passed away from a stroke after years of battling high blood pressure and diabetes, dance is what keeps Gloria's heart strong.
Find Out More
For more information on the Heart Truth for women, visit these sites: