Child Passenger Safety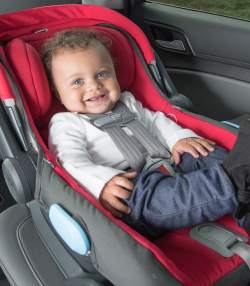 Child car seats protect children from birth to their early teens against death and injury.
Car seats and boosters provide protection for infants and children in a crash. Car crashes are a leading cause of death for children ages 1 to 13, so it's important to choose and use the right car seat correctly every time your child is in the car.
One-third of children killed in car accidents are not in car seats, booster seats or seat belts.
Stay Secure
Place children in age- and size-appropriate restraint systems. This reduces serious and fatal injuries by more than half. Learn more at Traffic Safety Facts and Keep Child Passengers Safe on the Road.
Register your child restraint and sign up for recall notices to receive safety updates.
Get your seat inspected by a National Child Passenger Safety Technician (CPST)
Child Passenger Safety Law in Mississippi
Child Restraint Required
Children younger than 4 years must use a safety seat or similar restraint.
Children 4 through 6 years old must use a booster seat if they are shorter than 57 inches (4 feet, 9 inches) tall, or if they weigh less than 65 pounds.
Adult Safety Belt Permissible
Adult safety belts may be used without a booster when the child reaches 7 years of age, or is at least 57 inches tall, or weighs at least 65 pounds.
Safety Seat Distribution and Education Program
Our team educates on child passenger safety and coordinates the distribution of child safety seats to families in need. We develop partnerships with Mississippi stakeholders to refer families to established distribution sites in their local community.
The Child Passenger Safety team's goals are to reduce the number of motor vehicle crash injuries and fatalities to unrestrained and improperly restrained children in Mississippi, to serve as a lead education and training resource for the public, and to help build program capacity and sustainability.
The distribution program is available to a limited number of eligible Mississippi recipients with small children.
Eligibility requirements for receiving a safety seat at no cost:
Family must receive Medicaid, WIC, SNAP, or any other federal assistance,
or family must be low-income or experiencing financial hardship.
Primary caregivers must attend an educational session.
Pregnant women must be in their third trimester.
More than one seat per child is not allowed (For example: for additional vehicles or caregivers). The parent/caregiver should receive education for each varying seat type distributed to the household in need.
Recalls
Recall repairs for automobiles and child safety seats are free regardless of whether you own the vehicle, are the regular driver of the vehicle, or are just borrowing it for the day.
Recall repairs could save your life. If a recalled airbag is deployed, there is a very real risk of serious injury or even death.
Airbag recall repairs can take as little as one hour to complete, and dealers make the process as easy as possible.
A safety recall repair does not affect the value of your car.
Before hitting the road, check for recalls for your car and car safety seats.
Child Passenger Safety Technicians
Child Passenger Seat Inspection Stations
Certification
Contact the Child Passenger Safety State Coordinator by e-mail at injuryprevention@msdh.ms.gov
Seat Belts
Your child is ready to ride with a seat belt after passing the Five Point Test:
Does your child sit all the way back against the seat?
Do your child's knees bend comfortably at the edge of the seat without slouching?
Does the belt cross the shoulder between the neck and arm?
Is the lap belt as low as possible, touching the thighs?
Can your child stay seated like this for the whole trip?
If you answered "no" to any of the above questions, your child should still ride in a booster seat. If they pass the test, they're ready for a seat belt.
Remember:
The lap belt should fit the child low across the hips and thighs, not across the abdomen.
The shoulder belt fits across the collarbone and chest. It should not cut into a child's abdomen or neck.
Children under age 13 should be properly restrained in the back seat.
Teenagers should wear lap and shoulder belts in every seating position in a motor vehicle.
A seat belt will properly fit a child when they reach 4 feet 9 inches tall, typically between the ages of 8 and 12.
Out-of-position lap belts can cause serious injuries to the liver, spleen or intestines. Since a child's upper body can jack-knife over a lap belt that's positioned too high, the spine may pivot and fracture, resulting in paralysis.
ALWAYS require safety belt use for all passengers and model good behavior. Make car safety a family habit!
Questions and Answers
What is a CPST?

Child Passenger Safety Technicians educate parents and caregivers on how to properly use car seats. CPS Technicians provide personalized instruction about how to properly install a car seat in a vehicle, as well as how to properly secure a child in the car seat.
Are all First Responders (Fire, Police, EMT, etc.) in Mississippi certified as CPSTs?

Most Mississippi Responders are not certified as CPSTs. Please check with our team to verify a technician's status.
Who is eligible to receive a child restraint (child safety seat) at no charge?

Caregivers currently receiving Medicaid, WIC, SNAP or any other federal assistance or in the third trimester of pregnancy. A caregiver's household must qualify as low-income if not currently receiving federal assistance. Caregivers are considered to be the parent or legal guardian, including foster parent, of the child receiving a seat.
Is education required to receive a car seat?

In addition to being eligible, caregivers are required to receive child passenger safety education for each seat type (if varied).
How is child passenger safety education offered?

Child passenger safety education may be offered virtually or in person, in group or individual appointments.
Can I receive a car seat for multiple children?

Eligible caregivers can receive a seat for multiple children in the same household that he/she is the parent or legal guardian of if need is identified by program staff.
Are recalls important?

Every recall is important and should be taken seriously as defects may pose a threat to occupants' safety.
What if my car only has lap belts in the back?

Can a car or booster seat be installed? Lap belts work fine with rear-facing–only, convertible, and forward-facing seats that have a harness but can never be used with a booster seat. If your car has only lap belts, use a forward-facing seat that has a harness and higher weight limits.
Do preemies need a special car seat?

A car safety seat should be approved for a baby's weight. Very small babies who can sit safely in a semi-reclined position usually fit better in rear-facing–only seats. Babies born preterm should be screened while still in the hospital to make sure they can sit safely in a semi-reclined position.
What if I drive more children than those who can be buckled in safely?

It's best to avoid this, especially if your vehicle has airbags in the front seat. All children younger than 13 years should ride in the back seat.
What car seat is the safest?

The safest car seat is the one that fits your child properly, is easy to use, and fits in your vehicle correctly. Car seats are only effective if used correctly. NHTSA estimates that 3 out of 4 car seats are installed incorrectly.
What are the biggest car seat mistakes?

Moving your child out of a booster seat too soon. Seat belts are designed to fit adults, not children. Improper seat belt fit can result in abdominal or neck injury in a crash or sudden stop.
Can I add items to my car seat?

Adding additional padding, toys or mirrors to your child's car seat. Using products that have not been tested with the car seat may interfere with how the seat was designed to perform in a crash. Loose items, such as mirrors, can also become a dangerous projectile in a sudden stop or crash.
What if I want to install a car seat using both LATCH AND a seat belt?

Installing a car seat with more than one system may put unnecessary stress on the car seat and affect its performance in the event of a crash. Install the car seat in approved seating positions with LATCH OR the seat belt. Do not use more than one system unless the car seat manufacturer and vehicle manufacturer permit it.
Is it okay for children to wear bulky coats/sweaters while buckled into a car seat?

Unapproved padding, including coats and sweaters, placed behind or under the harness can compress in a crash, creating slack in the harness system. We recommend placing blankets or jackets over the child after the harness is snug and secure.
Find Out More
---
Find this page at http://msdh.ms.gov/msdhsite/index.cfm/index.cfm